Venue & Travel Information
Venue and Hotel Details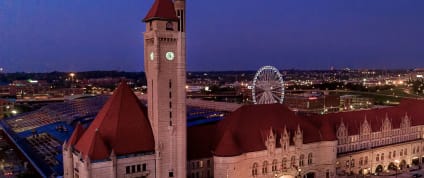 St. Louis Union Station Hotel
1820 Market Street
St. Louis, MO 63103
Visit Website

Hotel Reservations
Government Block
Rate: $141/night (plus applicable taxes)
Non-Government Block
Rate: $195/night (plus applicable taxes)
Reserve a Room


Check-in: 4:00 PM
Check-out: 11:00 AM


Search Nearby Hotels


COVID-19 Requirements
What do I need to know about COVID-19 requirements to attend LOA in person?
LOA continues to monitor COVID-19 closely and will take all necessary precautions to support the well-being of our attendees. We are not requiring registrants to be vaccinated or to present PCR test results.

Is LOA in compliance with State and Federal law?
Yes. The 2024 LOA Symposium will be held in total compliance with all U.S. national and Missouri state laws. Registration is open and individuals may attend in person or virtually. LOA is working with the St Louis Union Station Hotel, our venue, and both are committed to full compliance with all applicable laws.

Transportation and Directions
Click here for transportation information.
Symposium Dates & Location
March 26-29, 2024
St. Louis Union Station Hotel - St. Louis, MO
Be The First to Know
JOIN OUR EMAIL LIST


Follow Us on Social Media